Who am I?
I'm a human product of a Demerara sugar plantation, and spent most of my formative years in this environment. If you've added brown sugar to your coffee, tea, or baking, or indulged in chocolate or candy, you've probably come into contact with part of my heritage. It's a heritage with a sweet and a bitter side. My novel The Wisdom of Rain follows Mariama, an enslaved girl struggling with life on a nineteenth century plantation. She could have been my ancestor. Canada has become my home and I'm a proud alumna of York University and the University of Toronto. Most days, I enjoy the diversity and promise of this country.
---
I wrote…
The Wisdom of Rain
By Eleanor P. Sam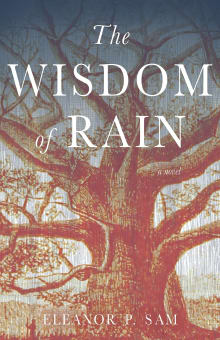 What is my book about?
I wrote The Wisdom of Rain about a young girl with special significance in her West African village because her birth signaled the return of life-giving rains after a devastating drought. But then, at the threshold of womanhood, she is uprooted and cast into the maelstrom of 18th-century slavery. She must endure the loss of liberty, home, and family and then the infamous Middle Passage on a slave ship bound for the British colony of "Demerary" on the northern coast of South America. The Wisdom of Rain is a story of oppression and brutality, but also fortitude and redemption as hope and love endure despite the circumstances. It is a tale of the past but with meaning for the present and the future.
The books I picked & why
Why this book?
This novel, told from a slave woman's perspective, illuminates the time of maximal oppression in the slave colony of Jamaica, where White men sexually and physically abused enslaved Black women at whim. Lilith, the main character, came alive to me as her rage and despair grew with the multiple attacks on her body and spirit.
It took me back to the anguish I felt discovering the journals of Thomas Thistlewood and his chronicling of close to 4,000 acts of rape carried out on his female Black slaves. When I visited Jamaica for the first time, I included Westmorland Parish as a stop. It was there that Thistlewood perpetrated his atrocities – an appalling example of the conditions under which enslaved women and girls lived during this period.
Why this book?
This novel also explores the suffering inflicted on enslaved Black women by their White colonial masters. An unwilling French heir to his father's plantation buys an adolescent slave girl as his wife's maid. But then he uses the child for sex, while she longs for freedom. Fortunately, there's a faint light of hope at the end of the tunnel of oppression.
The fact that this story is set during the time when enslaved Africans revolted against France, made me celebrate the indefatigable spirit of these warriors. Despite defeating Napoleon's army and becoming the first self-liberated slave society, Haitians were faced with the challenge of building a successful nation in hostile surroundings. This novel reminds me of the price they paid then and still pay for their freedom.
Why this book?
Levy takes us to the transition between slavery and emancipation, if not true freedom. The focus is again on the female experience and the main character is herself the outcome of a sexual assault by a White plantation overseer.
I truly loved this book. Although there is plenty of pain and suffering here, Levy skillfully injects humour into the character's outlook and gives us glimpses of the nascent strength and richness that became Jamaican culture. Some of my closest female friends come from this stock of talented people. I see and feel their joy and success as it triumphs over the grim chapters of their ancestral history.
Why this book?
Set on the beautiful island of Barbados, Edugyan's take on the slavery/emancipation interface focuses on primary characters that are male. The relationship between two of them, one White and one Black, becomes an exploration of how slavery created a toxic psychological legacy that distorted the nature and possibilities of friendship and trust.
I've loved Barbados since my first visit as a teenager, and I became more attached after some of my siblings called it home. Known as 'Little England,' a downside of this sunny paradise, and a relic of slavery, is its unequal economic and social class divisions. The population is over 90% Black but most of the valuable land and resources are owned by non-Blacks. I encourage readers to look beyond its surface beauty and explore its deeper history.
Why this book?
The story is set in Canada during the 1920s but Baxter, the main character, is an immigrant from the Caribbean and exemplifies a consequence of the region's slave history. He is part of the diaspora of descendants seeking better lives in other parts of the world. But although in a different country, Baxter does not escape the pressure to accept a position in a subservient class.
Mayr effectively creates the sense of threat that pervades Baxter's environment, intensified by his sexual orientation. A saving grace is his peer group of fellow porters. Initially they seem cruel and disinterested, but when faced by oppressive authority, they rally around him. This book reminded me that though the physical confinement of slavery has ended, the devaluation of Blackness continues.
Reference: Shepherd.com